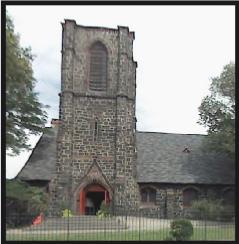 2018-2019
Concert Season


UPCOMING CONCERT


May 19, 2019

A Journey of Self-Discovery
Art Songs of Grieg, Poulenc and Harbison
Tessa Romano, mezzo-soprano
Christopher Bradshaw, pianist

----------------------------------


2019-2020
Concert Season


September 22, 2019

Hoffnung Trio:
100 Años de Música Chilena
Claudia Peñalillo, clarinet
Patricio Riquelme, cello
Milén Fuentes, piano


November 17, 2019

Piano and Poetry
Christopher Bradshaw, piano





PAST CONCERTS


September 15, 2013

Martin Söderberg, piano
Music of Spanish Composers


October 20, 2013

500 Years of Music
for Guitar
Peter Griggs, classical guitar


November 17, 2013

Stefanie Izzo, soprano
Luis González, baritone
David Taubman, piano


January 19, 2014

Nelson Ojeda Valdés, piano
Luis González, baritone


February 16, 2014

Chamber Music Concert
Akiko Hosoi, violin
Laura Ha, violin
Alyssa Hardie Beckmann, viola
Midori Sadamatsu Witkowski, viola
Julian Schwarz, cello
Andrew Trombley, double bass
Christopher Bradshaw, piano


March 16, 2014

Filip Pogády, violin
Peter Fancovic, piano


May 18, 2014

Children's Program
Nelson Ojeda Valdés, piano
Christopher Bradshaw, piano


October 19, 2014

Quartet for the End of Time
Chamber Music Recital
Catherine Lawlor, violin
Tony Park, clarinet
Elizabeth Kim, cello
Markus Kaitila, piano


November 16, 2014

The Studio of Nelson Ojeda Valdés
presents
A Concert of Chamber Music


January 18, 2015

Rebecca Jordan, flute
Nelson Ojeda Valdés, piano


February 15, 2015

A Night at the Opera
Anna Noggle, soprano
Victor Starsky, tenor


March 22, 2015

Through Her Eyes:
A Celebration of Women in Music

Stefanie Izzo, soprano
Catherine Frank, piano


April 19, 2015

The Three B's

Christopher Bradshaw, piano


October 18, 2015

Lynette Carveth, soprano
Nelson Ojeda Valdés, piano
Spanish Music
for Voice and Piano


November 15, 2015

Chamber Music
Students of
Nelson Ojeda Valdés


December 13, 2015

Olivia Smith, soprano
Christopher Bradshaw, piano
Mozart, Brahms, Britten


January 17, 2016

Stefanie Izzo, soprano


February 21, 2016

Markus Kaitila, piano


April 24, 2016

Children's Opera Program:
Beauty and the Beast
by Vittorio Giannini
Anna Noggle, soprano
Victor Starsky, Tenor
Jessica Kimple, Mezzo-Soprano
Todd Wachsman, Baritone
Christopher Bradshaw, piano


May 15, 2016

Bones of Contention
Brass Ensemble
*Jeremy Kempton, tenor trombone
*Alex Somer, tenor trombone
Jacob Elkin, tenor trombone
*Nick Healy, bass trombone

*members of the Brooklyn Symphony Orchestra


October 30, 2016

Nicoletta Julia Berry, soprano
Yurika Mihara, pianist


November 13, 2016

A Cappella Group:
The Rough Dozen


December 18, 2016

Peter Griggs, classical guitarist


January 15, 2017

Granados and Ginastera: Nationalism, Tradition and Vogue

Nelson Ojeda Valdés, pianist


February 19, 2017

Olivia Smith, mezzo-soprano
Christopher Bradshaw, pianist


March 19, 2017

Lady Music: A Celebration
of Women Composers
Stefanie Izzo & Amelia Lubrano,
sopranos
Catherine Frank & Jessica Anderson,
pianists


April 23, 2017

David Glukh, trumpet
Liya Petrides, soprano/pianist


May 21, 2017

Pictures at an Exhibition

music of
Mussorgsky and Prokofiev
Christopher Bradshaw, pianist


October 15, 2017

Granados Anniversary Concert
Nelson Ojeda Valdés, piano
Christopher Bradshaw, piano
Marisol Espada, cello
Brian Ford, violin
Caitlin Caruso-Dobbs, soprano


November 19, 2017

The Vocalis Consort:
Music of Francis Poulenc
Christopher Reames, tenor
Igor Correa, actor
Martin Néron, piano


January 21, 2018
ART SONG ASTORIA - PART I

The Astoria Music Project presents
The Feminine Classique
Stefanie Izzo, soprano


February 18, 2018
ART SONG ASTORIA - Part II

L'Invitation au voyage:
Songs of Debussy, Fauré,
Duparc and Chausson
Sarah Cooper, soprano
Corey-James Crawford, countertenor
Sonya Headlam, soprano
Andrea Salazar, soprano
Martin Néron, pianist


March 18, 2018
ART SONG ASTORIA - PART III

Art Songs and Arias
David Friedman, baritone
Christopher Bradshaw, pianist


April 15, 2018

A Century of Spanish Dance
Ensemble Suite Iberia
Paul Jared Newman, guitar
Deirdre Towers, dance and castanets
Brian Ford, violin
Nelson Ojeda Valdés, pianist


May 27, 2018
ART SONG ASTORIA - PART IV

Bright is the Ring of Words:
Music and Poetry of Britain
David Waterland, baritone
Christopher Bradshaw, pianist


October 21, 2018

Claude Debussy In Memoriam:
A Centenary Anniversary
Nelson Ojeda Valdés, piano
Christopher Bradshaw, piano
Darwin Cosme Sánchez, flute
Kate Dillingham, cello


November 18, 2018

"Contigo Peru"
The Vocalis Consort
Martin Néron, piano
Christopher Sierra, tenor


December 16, 2018

Jazz Trio Concert
Luca Rosenfeld, bass
Jean John, drums
Davis Whitfield, piano


January 20, 2019

"Cantabile"

- Chamber Music for Clarinet, Cello, Voice and Piano
Claudia Peñailillo Villegas, clarinet
Kate Dillingham, cello
Ginny Weant, soprano
Christopher Bradshaw, piano


February 24, 2019

Art Song on the Move

presents
"Zoology" - Music About Animals
Hai-Ting Chinn, mezzo-soprano
Martin Néron, piano


March 24, 2019

Astoria Music Project

presents
The American Experience:
American Woman
Stefanie Izzo, soprano
Amanda Lee, french horn
David Taubman, piano
Rachel Hauser, violin


April 28, 2019

Canto Zenzero:
An Evening of Classical Hits
Kathleen Monson, soprano
Brynn Bixby, soprano
Ginny Weant, soprano
Riko Higuma, pianist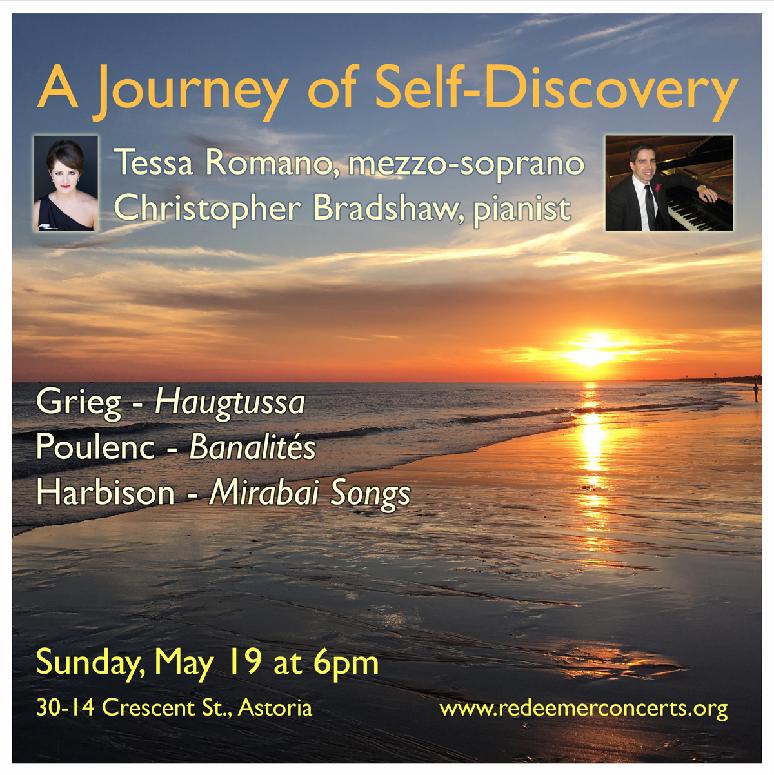 A native of Syracuse, NY, mezzo-soprano

Tessa Romano

holds a DMA in Voice and Pedagogy from CU Boulder, a MM in Voice from the U of Michigan, and a BA in Italian from Princeton University. Tessa has held opera fellowships at Aspen Opera Center and CU NOW. Past awards include 1st Place in the Florida Grieg Voice Competition, Winner of The Art of Art Song Competition, and Winner of FAVA's Grand Concours Prize. She has been a soloist with the Syracuse Symphony, Hartford Symphony, and American Handel Society, and has studied under Jennifer Bird, Freda Herseth, Christopher Arneson, Richard Lalli, and Helen Boatwright. Tessa will soon be taking the post of Tenure Track Lecturer in Voice at the University of Otago in Dunedin, New Zealand.

Pianist

Christopher Bradshaw

has performed as a soloist and collaborative pianist in the USA, Spain, Germany, Austria and Switzerland. He teaches piano in New York City, and frequently performs as a soloist and with other instrumentalists, singers and choirs. He has performed at Steinway Hall, Merkin Hall, and the DiMenna Center for Classical Music in New York City. Christopher serves as music director at Church of the Redeemer in Astoria, Queens, and is the artistic director of the Redeemer Concert Series.